Margaret's Newest Book!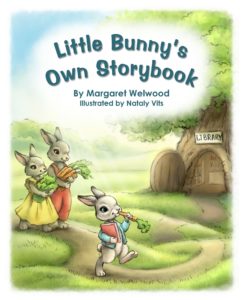 Little Bunny's greatest joys are his daily visit to the library and the treasures he finds there. What happens one fateful morning when he sees the dreadful sign, LIBRARY CLOSED FOR INVENTORY? Will our voracious reader munch on limp lettuce and decimated dreams until the wretched task has been completed? Or, like the fire that hardens steel, will this catastrophic event spur him to initiative and creativity?
Little Bunny's Own Storybook is a celebration of libraries, literacy, family, and the initiative and creativity of children (both human and rabbit).
The story here is told in verse
to help your child with reading.
Your child will find the words that rhyme
and follow as you're leading.

Marie is a happy little girl who lives in a cabin in the woods, working and playing with her forest friends . . . until a not-so-busy bee entices her to neglect her work! Compassion, forgiveness, restoration, and a forever friendship follow. 
By the following summer, Mr. Bee is too old to fly. But every night, Marie lifts her little friend onto her lap and reads to him from the Bible (Proverbs 12:14b Version), or their very own storybook (Regular Version).  
Some people appreciate the fact that the disability is present without being the focus, while others are pleased to see someone with a disability in the role of rescuer.
Marie and Mr. Bee is being enjoyed by children 4 to 8 years old, and their grown-ups.

How does a small town—well-ordered and supremely manicured—look after invasion by a horde of pink-slippered "Slicers and Dicers" who cause the townspeople to hide all their cutting tools? And then how does life go on when nobody can cut anything at all?
Although it is pure fantasy, Scissortown was written for another purpose besides entertainment—promotion of kindness and initiative in even the youngest of children. Two different inside back covers containing either a Faith-Based or a Life Application promote these qualities in the follow-up to this humorous, engaging tale.
Please fill out the contact form to order the Enhanced E-book edition of Scissortown.
"LOCAL PICK-UP"
For customers that can meet in Grande Prairie or Beaverlodge, Alberta, local pick-up is available.  Books can be autographed and personalized at no additional charge. 
Please fill out the contact form to order any paperback book for local pickup.